Our Services
Massage
What makes our massages different?
FULL amount of time is MASSAGE time.
We do not deduct the time it takes you to dress/undress and stretch* from your massage time like most massage businesses do. (*sports massages)

All massages include essential hot oils and hot stones if desired.
Massage Pricing (Valid for any of the 3 Types of Massage Offered):
| | | | |
| --- | --- | --- | --- |
| 45 minutes: $60.00 | 60 minutes: $80.00 | 75 minutes: $100.00 | 90 minutes: $120.00 |
We Offer the Following Types of Massage:
Swedish Massage is the modality that comes to mind when most people think about massage. As the best-known type of bodywork performed today, one of the primary goals of the Swedish massage technique is to relax the entire body. This is accomplished by rubbing the muscles with long gliding strokes in the direction of blood returning to the heart. But Swedish massage therapy goes beyond relaxation. Swedish massage is exceptionally beneficial for increasing the level of oxygen in the blood, decreasing muscle toxins, improving circulation and flexibility while easing tension.
Deep Tissue is similar to Swedish massage, but the deeper pressure is beneficial in releasing chronic muscle tension. The focus is on the deepest layers of muscle tissue, tendons and fascia (the protective layer surrounding muscles, bones and joints).
Sports Massage is a form of bodywork ideal to treat injuries and as well as a preventative treatment dealing with the health of muscle and connective tissue, range of movement, tone, symmetry, balance of muscle and quality of posture.

Body Scrubs
A body scrub is a popular body treatment that is basically a facial for the body; it exfoliates and hydrates your skin, leaving it smooth and soft. A body scrub is done with an abrasive material -- usually sea salt or sugar -- mixed with massage oil and an aromatic like essential oils. Our body scrub is freshly made by our staff with organic oils, exotic herbs, brown sugar, and peppermint to remove excessive oils and dead skin.
15-Minute Exfoliating Skin Scrub: $35.00

30-Minute Exfoliating Skin Scrub: $50.00
Manicures/Pedicures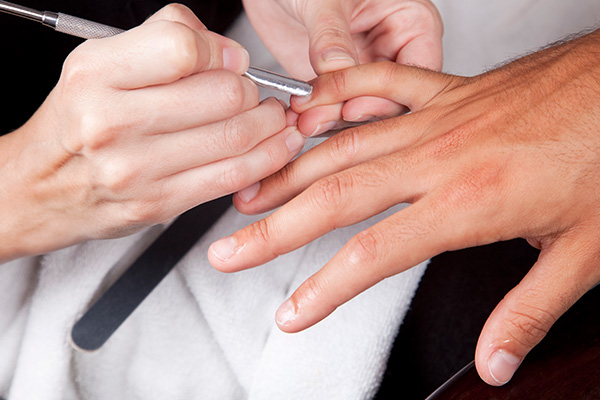 Manicure - $50
This service includes your choice of ANY Aroma Sensation, Aromatic Hand Soak, Natural Nail Care, Aromatic Dry Skin Exfoliation Scrub, Aromatic Mud Mask, Hot Towel Wrap, Paraffin Wax Treatment, Hot Stone Massage on Neck and Shoulders
Pedicure - $50
This service includes your choice of ANY Aroma Sensation, Aromatic Foot Soak, Natural Nail Care, Intensive Callus and Heel Treatment, Aromatic Dry Skin Exfoliation Scrub, Aromatic Mud Mask, Hot Towel Wrap
Facials
Men's skin and women's skin differ in a few key areas. For instance, men's skin is 25% thicker, has a higher collagen density, produces more sebum oil, and appears to be better hydrated. That's why facials tailored specifically to men's skin exist.
Men's Health Facial
Our Men's Health facial is formulated to the unique need of men's skin and usually deal with problems men commonly face, such as razor burn and ingrown hairs, dullness, and sensitivity. Some target skin that has been damaged by the elements like sun and wind, some target acne, and some target aging.
30 minutes in Duration
The G.Q. Facial
Our most advanced facial. Unlike our basic Men's Health, the G.Q is a full hour long, allowing your facial to be more custom and designed specifically for each Man's areas of concern. Great after a dry harsh winter or long hot sweaty summer!
60 minutes in Duration
Trimming/Waxing
Hair removal is very important to a man's confidence. There's nothing worse than razor bumps, ingrown hairs or other unsightly flaws from hair removal gone wrong. Trust the experts at Massage & Pampered to groom you to perfection so you can flaunt what you've got with pride!
Trimming – a nice clean trim. Reduce the amount of hair, without getting rid of it all.
Abdomen: $40

Arms: $30

Back & Shoulders: $60

Brazilian: $80

Chest: $40

Gluteus: $40

Legs: $40

Under Arm: $20
Waxing – for the bravest of men who want to enjoy smoother skin for up to 6 weeks!
Abdomen: $60

Arms: $50

Back & Shoulders: $100

Brazilian: $120

Chest: $60

Gluteus: $60

Legs: $80

Under Arm: $40
Special Packages
At Massage & Pampered, we are pleased to offer these great special packages to our clients. Check back often for updates!
Current Special Packages: